Inocencio Lario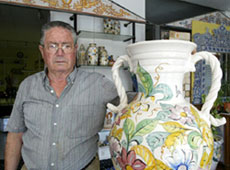 The name of Inocencio Lario, early pottery and potter of international reputation, will always be linked to the cultural identity of the Lorca inside and outside its borders, because the name Lario, since 1600 stands in potter Lorca.
Although his creations based on the popular pieces that gave a colorful decoration of flowers and birds, was a craftsman innovative, researching and surprised with products based on ancient forms and techniques forged in the first place to the delight of their own, as personal challenge, until reaching the desired quality by the teacher. Some of these pieces became part of his collection by choice.
Pitchers, reproductions of ancient sources, ewers, trays benditeras crackle, lamps, coffee sets, murals, bowls, jugs, among which was his masterpiece, The Bride Mug popular are some of the productions performed in this exemplary craftsman his workshop in La Tercia, at the entrance to the town of Lorca in the old N-340.
Inocencio Lario Tribute to 2008

Awards
· Distinguished Artisan and Silver Medal of the Association of Craft Work. 1973.
· Laurel de Murcia granted by the Press Association of Murcia. 1985.
· Business Promotion Award awarded by the Chamber of Commerce of Lorca. 1988.
· Award Mucia Nativity Scene Makers Association. 1990.
· Craft Prize awarded by the Chamber of Lorca the marriage. 1998.
· Honorary Master Craftsman, awarded by the Ministry of Industry, Trade and Tourism. Directorate General of Trade and Crafts. 2003.
· It is the only artisan who has a bronze bust cast in his image in the Regional Craft Centre Lorca.
Exhibitions and Fairs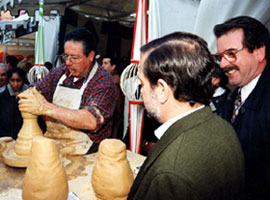 There are countless exhibitions throughout his life the artist has been making Lorca combining the perfect fusion of beauty and utility.
He has participated in numerous national shows as 85 in Madrid refine, Cevider 89 (Valencia), Arc 90 and 91 (Madrid), Ferialfar 91 (Salamanca), Farcama (Toledo), Artedeco (Santander), etc.. He represented Spain in international fairs among which the International Fair of Casablanca and the California State Fair (USA).
Now retired and Murcia titled "The trousseau of" the hand of the Guild of Handicraft Regional de Murcia, showed the best works from his private collection in the sample developed in the College of Industrial Engineers of Murcia, held in April 2001.
The year of his death (2008), the Regional Fair Craft Murcia (FERAMUR) opened a bust bearing the likeness of posthumous recognition Lario. This work has been exhibited permanently at the Regional Centre of Crafts is located in Lorca, in memory of the renowned master potter and ceramist.
In October 2008 saw the tribute exhibition held at the Garden Palace Ruano, in his hometown, organized by the Ministry of Universities, Business and Research through the Directorate General of Trade and Crafts. In this event there was a semblance of the shape and trajectory of this famous potter. In this tribute was attended by 27 artisans, who reinterpreted the work of Lario in various materials such as iron, papier mache, jewelry or mud.