Biography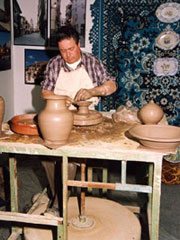 Inocencio Lario Lopez was born on May 15, 1933 in the district of San Cristobal de Lorca, at number 17 Elliott Street, where it was located once the guild of potters. Born in the pottery who ran his parents, his father and grandfather Inocencio, where from an early age, began to familiarize themselves with mud and lathe.
Primary studied for a short period of time, because at fourteen his father put him to work in pottery to help support their families, but it was not until May 21, 1975 when he obtained, by examination, the certificate of Master craftsman in the art of pottery.
Married to Leonor Piñero Lorca, near the same neighborhood of San Cristobal, their four children today continue the ceramic tradition in the family workshop in La Tercia, where he moved at marriage, when he warned that tourism is heading towards Andalusia looking craft products as jugs, ceramic plates and generally popular, increasing the chances of selling at the edge of the road opposite its original location, hidden in the neighborhood of San Cristobal. In this way, tourists bought their products directly, without going through intermediaries.
Encounter with Picasso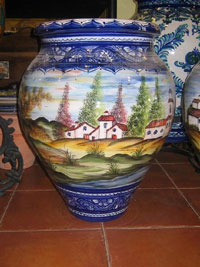 In the 50's was forced to emigrate to France with his family where he had the opportunity to meet dedicated Pablo Picasso, who introduced him to a small sample of pottery usually did. Such were the accolades he received from the Malaga-born artist who decided to return to Lorca Innocent encouraged by the painter, where he began a stage in their decorative and artistic ceramics.
In his workshop was devoted to the creation of popular pieces and colorful traditional decor dominated by flowers and birds, jars, plates, ewers, basins, cups, etc. It currently occupy his daughter Anna, a painter and ceramist, Antonio, which deals around, and Innocent, in charge of trade issues. For his part, Juan Lario, the eldest, has opted for the traditional tiles, murals and large-format sources manually painted with artistic drawings, works that are exported to various countries and emerging from its own factory located in Totana.
A groundbreaking concern should be the recreation of the current and known Mug Bride, to constantly declaring his love and that gave him so much satisfaction over his career. Bride Mug that was proud and which gave life and even legend, and has developed over the course of time the symbol of the pottery Lorca. Legend has it that the Bride Stein was used in the wedding, and she drank the consecrated wine for each of its five peaks the priest, sponsors, and the bride and groom, taking care not to spill a drop.
Lario teacher presumed to dominate the mud, that person who once mined clay quarry, located on the banks of the river Sanqunayra, as called by the Arabs, which was then finalized in the workshop.
Coinciding with its 75th anniversary, Inocencio Lario died on May 15, 2008.
The firm Lario, international
Lario Currently the company remains active in the Product Design Center in Los Angeles Murcianos (USA), where he has created designs for products and best known faces of the American landscape, as Sylvester Stallone or Madonna, that have murals and monumental fountains. signature Lario Lario master Parts are in possession of King Juan Carlos and Queen Sofía. He also wanted to acquire part of his work, Pope John Paul I. You can also find Lorca tiles in bathrooms and private kitchens of the princes of Asturias.


Artists of the stature of Joseph Lucas, Muñoz Barberan, Parraga and Mir, among others, have used their craft workshop to create their works in ceramics.
In the workshops of master pieces have come across five continents. Additionally, you can find works by museums Lario in the U.S., France, Portugal and Germany. Shops in several countries have sections on their pottery.